Welcome to My Personal Page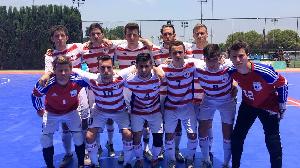 The Maccabiah Games are a celebration of Jewish unity, culture, and heritage through athletic competition – I am so honored to be a part of Team USA as the Chair for Futsal! I hope you will join me in my fundraising efforts for the 20th World Maccabiah Games in Israel – any contribution helps! Your support will ensure that my team is well represented in Israel with world-class Athletics and Jewish Pride. You can make a difference!
We have a number of fantastic athletes who need your help so that they can fulfill their dream of competing for team USA. The cost per layer is a challenge for some of our players. I am trying to raise $10,000 in funds so that together we can lessen the burden because for a number of players the competition and experience will not be possible without our help. Because of this I am reaching out to you so that we can all share in their success. Please join me in supporting this group.
Sincerely,
Michael Monheit, Chair for Futsal, Maccabi USA
View More
Fundraising Honor Roll
Monheit Foundation Capital Access
$2,500
Alicia and Jim Prusky
$180
Michael and Jodi Kotler
$100
Peretz and Chanie Chein
$36