I'm Going For Gold at the 20th World Maccabiah Games in Israel!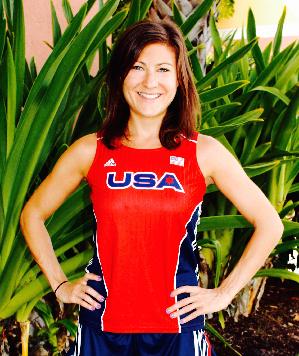 Dear Friends, Family and Supporters,
Thank you so much for your ongoing support as I prepare for the 20th World Maccabi Games in Israel this summer! I have some exciting news to share:
1. Training: My training has gone well! Last year, I spent a lot of time running and building strength. After dealing with some ongoing injuries, I was able to put forth a strong effort at the A1A Half Marathon in Ft. Lauderdale, FL this past February. I ran a 1:37 which was a good effort for the day and one that I was comfortable with. Now as I get ready to start my REAL training in late April and through the games, I am excited and ready to break 1:30 once again!!!
2. Fundraising: My fundraising is strong and I am 50% of the way there thanks to you!!! If you plan on donating, please do so in the coming weeks as I must turn in the balance by April 1st! Thank you for your support and help!!! It means the world to me.
3. Team USA: This is exciting and NEW news!!!! I have been named Captain of the Open Half Marathon Team!!!! I'm both honored and excited to take on the responsibility. I've watched quite a few leaders before me act as captains and I look forward to following in their footsteps!
4. Logistics: We received flight assignments last week from the Maccabiah World Union, and uniforms will come soon as well! The trip and journey is getting very real and I'm very excited!!!!
Thank you again!!!
Melissa
About Maccabi
The Maccabiah Games are a celebration of Jewish unity, culture and heritage through world athletic competition. The 20th Maccabiah Games will take place in Israel next summer and feature more than 10,000 Jewish athletes from 80 countries around the world. Every member of the USA Team must contribute a minimum dollar amount or "Yachad" in support of Maccabiah. My Yachad commitment is $8,000.
As a Maccabi veteran, I have competed in three other Games – two in Israel and one in Germany. I have won a total of seven medals in World Maccabi competition – five bronzes, one silver and one gold. This summer, I plan to go back for gold one more time!
With your support, I will represent our community in Jerusalem summer of 2017!
Make a tax-deductible donation by clicking on the "Donate Button" to the right or mail a check to Maccabi USA / Sports for Israel at 1511 Walnut Street, Suite 401, Philadelphia, PA 19102 and put my name in the memo!
Thank You,
Melissa Perlman
Please contact me with any questions!
Melissa Perlman
561-310-9921
MelissaPerlman@gmail.com
Maccabi USA is a 501c(3) Not-for-profit organization. Donations made on behalf of a Team Member or a Team directly to Maccabi USA are tax-deductible to the fullest extent allowable by law.
View More
Fundraising Honor Roll
Ms. Melissa Perlman
$1,823
Scott & Susan Wilfong
$500
Aly, Gabby, Benjamin, Rachael and Marc
$118
Spanish River Cross Country Team
$108
Alana and Bryan Shevak
$100
Joe Liebman and Michael Adams
$100
OrangeTheory West Delray & Boca Central
$50
Raymond and Cynthia Gabris
$50
Phil & Sherry Marzullo
$18