Message from Lou Moyerman, General Chair
As the games are finished, there are so many people to thank. I'm sure I am missing some; here is my way of extending my sincere thanks.
First of all, I MUST thank all of Team USA's athletes who competed at this great set of Games. Their sportsmanship was exemplary, and each athlete gave their maximum effort in matches, competitions, games and meets. Our head and assistant coaches led the way. The Management, Medical and Security teams, who kept us together, up and running, and most of all, safe. Kudos to Jeff Schulman, our Team USA Manager, and the Maccabi USA Professional staff, led by Jed Margolis, for all of their hard work over the past year. Special thanks to Alvaro Rosenblut and his staff for putting on a spectacular Games in Santiago. Most of all, I need to thank my wife Kinfar, for her understanding, guidance and love. Without her support, I could not have done it.
So what memories will you bring home; Sports, cultural, new friends, community service, or the medal you and your team won? Whatever you cherish, it will be with you forever. I would like to share some of my memories.
Missing team orientation because of flight problems. What a bummer.
A spectacular Opening Ceremony. Having my son Adam carry in our flag with Lauren and Dallen. Sharing the excitement with my eldest son, Sam. Such a proud parent moment for me. Seeing our delegation with their red, white and blue "pipe hats", walking in so proud was very special.
Competing with Adam and Team USA's Judo team. Awarding Adam his two hard-earned medals for his excellence competing and coaching.
Watching the four Volleyball teams play, which my son Sam and Ross Rosner worked so hard to organize, and seeing them win their medals.
Our three Tzedakah projects. Dr. Marc Backal and our teams providing free eye exams and glasses at a clinic in San Bernardo, a very poor neighborhood in Chile. They raised enough funds to purchase the machines they used so that they could leave them in Chile for future use. The Rugby team visiting the Troi Hospital, for kids affected by cancer. Our Tzedakah Food Project, which you all so generously helped fund, where our team boxed meals for Chilean Jewish families.
The festivities at the EIM and the mission dinner on New Years Eve. So many Jews ringing in the New Year together, and the fireworks were excellent!
Sharing time with supporters, parents and relatives of our athletes- Thank you for the support.
Handing the Team USA Golfers their medals at an amazing ceremony, where Hatikvah was sung beautifully by Dan Frankel, our Golf head coach, who has a truly fabulous voice. Not an eye was dry.
Special memories from the thank you notes written to me by athletes, coaches and parents.
Watching Skylar, #9 on the Women's Volleyball team, who had to get special permission from the Navy to participate in these Games. Thank you for coming and most of all thank you for protecting us and this great country.
Awarding the Dolph Schayes Memorial Award to Natasha Dabrowski, Open Tennis, and Joel Kitchen, Open Men's Volleyball, for their sportsmanship and athletic excellence at these Games.
Now, our delegation is a new Maccabi family with new friends from around the world. Cherish your memories – I will definitely forever cherish mine.
It was an honor and privilege to be the General Chair of Team USA's Organizing Committee for this great Maccabi team. Thank you for all being there with me.

Lou Moyerman, General Chair, USA Pan American Maccabi Games Organizing Committee
The Dolph Schayes Memorial Award
Congratulations to Natasha Dabrowski, Open Tennis, and Joel Kitchen, Open Men's Volleyball, who are the recipients of Maccabi USA's inaugural Dolph Schayes Memorial Award, which is given to the athletes that best exemplify the Maccabi spirit through sportsmanship and athletic excellence.
The award was established in loving memory of Dolph Schayes, a long-time friend to Maccabi USA who recently passed away. He served as a gold medal coach for Team USA at the 1977 Maccabiah Games, and had his son, nephew, and 4 grandchildren have participated in Israel and elsewhere. Dolph is the greatest Jewish basketball player ever, EVER. He was named one of the NBA´s top 50 players of all time.
He loved the Maccabiah Games, Maccabi USA and all of our projects as they touched not just him but his family in a meaningful way. Dolph was a dear friend to many involved in Maccabi USA. He always took the time to speak to young and old alike.
Dolph was a true mensch of a guy who had the ability to make everyone around him feel important. He also gave back to Maccabi USA through an endowment with his son, Danny, and giving of his time whenever we asked.
This award, which has a stipend for future travel to Israel, was developed to reflect excellence is sports and leadership, combined with being a mensch.
He would have loved to have met Natasha and Joel, two very deserving individuals. We had some wonderful nominations yet these two stood out.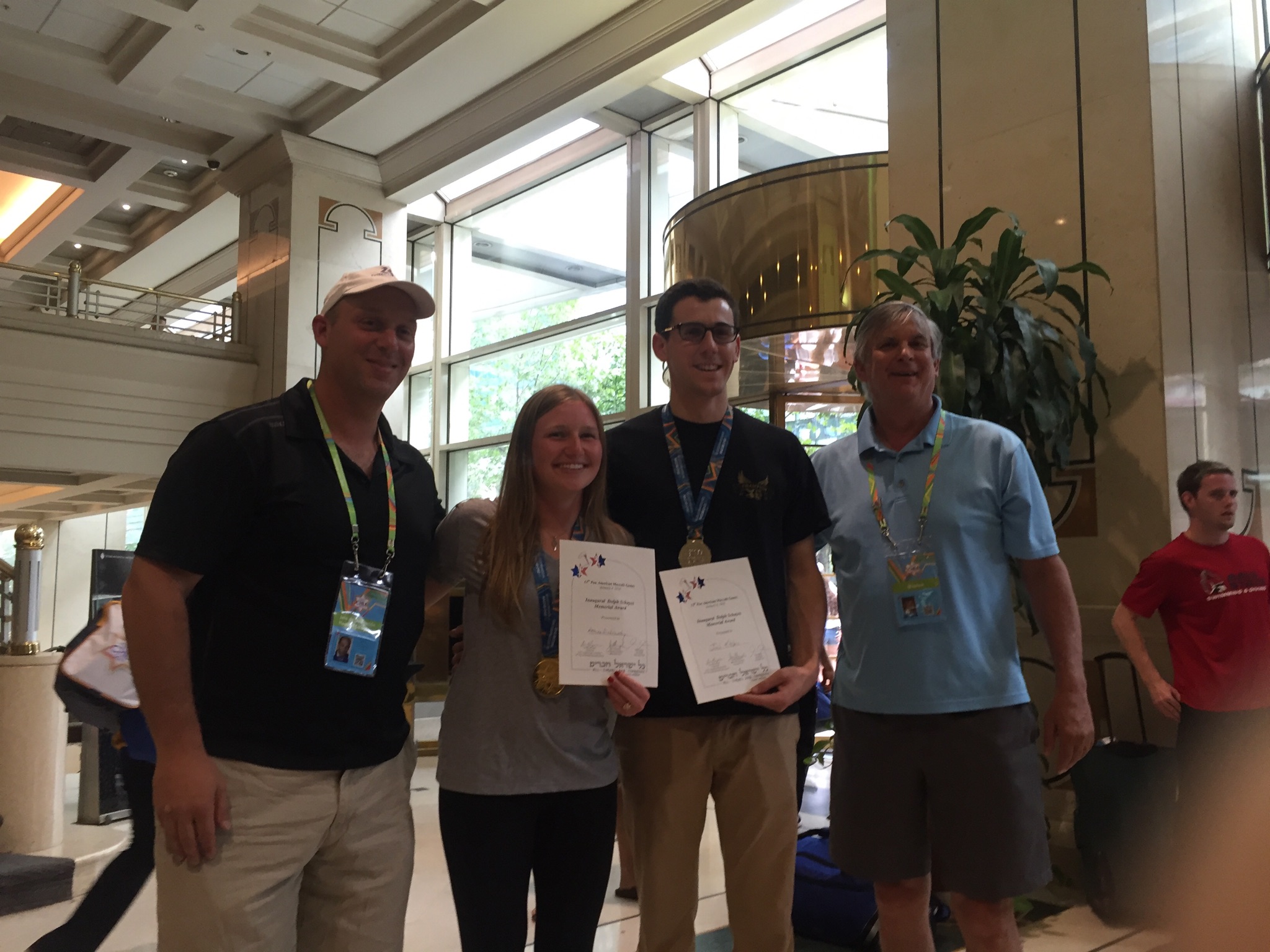 (Pictured from L-R: Jeff Schulman, Natasha Dabrowski, Joel Kitchen & Jed Margolis)